Diaphragm Pump Mechanical Seal
Product Detail
Product Tags
Product Name

Diaphragm Pump Mechanical Seal

Positional Accuracy

± 2μm for workpiece size ≤ 600mm x 300mm
± 5μm for workpiece size ≤ 1200mm x 700mm

Flatness

≤ 5μm

Mold Life

500,000 - 3,000,000 Shots

Color

Silver, black , OEM

Hardness

30-90 shore according to work environment

Technology

compression, injection or extrusion

Tolerance

±0.05mm

Density

1.0-2.0g/cm²

Working life

10-30years

performance

1.Good sealing and damping

2.Water resistance

3. Anti-aging

4.Anti- ozone

5.oil resistant

6.pressure resistant
According to the actual application scenarios of customers, provide different material designs, NBR, HNBR, XNBR, EPDM, VMQ, CR, FKM, AFLAS, FVMQ, FFKM, PTFE, PU, ECO, NR, SBR, IIR, ACM. Applicable ambient temperature- 100℃~320℃, ozone resistance, weather resistance, heat resistance, chemical resistance, oil resistance, water tightness, cold resistance, abrasion resistance, deformation resistance, acid resistance, tensile strength, water vapor resistance, resistance flammability, etc.
Mature technology, stable quality
Recognition of product quality by leading enterprises
appropriate price
Flexible customization
completely meet customer needs 
1. Advanced production equipment:
CNC machining center, rubber mixing machine, preforming machine, vacuum hydraulic molding machine, automatic injection machine, automatic edge removal machine, secondary vulcanizing machine (oil seal lip cutting machine, PTFE sintering furnace), etc.
2. Perfect inspection equipment:
①No rotor vulcanization tester (test at what time and at what temperature the vulcanization performance is the best).
②Tensile strength tester (press the rubber block into a dumbbell shape and test the strength on the upper and lower sides).
③The hardness tester is imported from Japan (the international tolerance is +5, and the company's shipping standard is +3).
④The projector is produced in Taiwan (used to precisely measure product size and appearance).
⑤Automatic image quality inspection machine (automatic inspection of product size and appearance).
3.Exquisite technology:
①Has a seal R&D and manufacturing team from Japanese and Taiwanese companies.
② Equipped with high-precision imported production and testing equipment:
A. Mould machining center imported from Germany and Taiwan.
B. Key production equipment imported from Germany and Taiwan.
C. The main testing equipment is imported from Japan and Taiwan.
③Using the international leading production and processing technology, the production technology originates from Japan and Germany.
4. Stable product quality:
① All raw materials are imported from: NBR nitrile rubber, Bayer, FKM, DuPont, EPDM, LANXESS, SIL silicone, Dow Corning.
②Before shipment, it must undergo more than 7 strict inspections and tests.
③Strictly implement ISO9001 and IATF16949 international quality management system.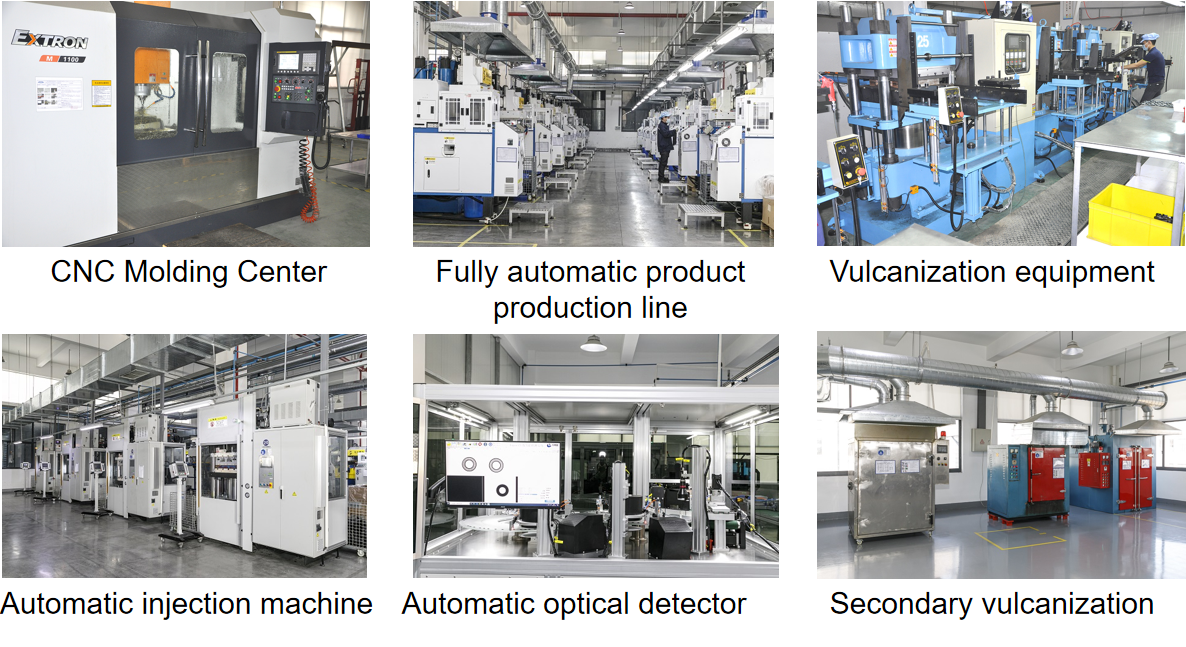 ---
---
Write your message here and send it to us