High Pressure Resistant Fiber Rubber Pump Diaphragm
Product Detail
Product Tags
| | | | |
| --- | --- | --- | --- |
| Brand Name: | YOKEY/OEM  | Application:  | Automotive Industry, Drinking water treatment, wastewater treatment  |
| Color:  | Custom  | Certificate:  | IATF16949/RoHS/REACH/PAHS/KTW/NSF  |
| Material Type:  | NBR FKM EPDM CR SIL etc.  | Feature:  | Sealing Performance/Wear Resistance/High&Low Temperature Resistan  |
| Size:  | Non-Standard/Standard  | MOQ:  | 20000pcs  |
| Hardness:  | According to the material  | Packing:  | Plastic Bag/Custom  |
| Working temperature:  | Choose Suitable Material  | Certification:  | RoHS, Reach  |
Product Info

Product name

Fabric-Rubber Diaphragm&Rubber diaphragm

Material Type

NBR,EPDM,SIL,FKM,SBR,NR,etc.

Hardness Range

40~70 Shore A

Color

Customized

Size

Customized

Application

Pump, valve and other control equipment

Certificates

FDA,RoHS,REACH,PAHs

OEM / ODM

Available

Packing Details

PE plastic bags then to the carton / as per your request

Lead Time

1).1days if goods in stock 

2).10days if we have existing mould

3).15days if need open new mould

4).10days if annual requirement informed

Port of Loading

Ningbo

Shipping Method

SEA,AIR,DHL,UPS,FEDEX,TNT, etc.

Payment Terms

T/T,L/C,Paypal, Western Union
Rubber diaphragm with pressure control/diaphragm/seal function is our main product.  
The product combines the unique sealing property of rubber with the strength of the base cloth, which can accurately control the pressure and the movement stroke of parts, and is used by many users.  
The company specializes in producing laminated rubber diaphragm, from the processing of all kinds of flat diaphragm, is now widely used as automobile parts diaphragm, is evaluated as the leading domestic diaphragm production enterprises.  
Rubber diaphragm is divided into
1. Isolation film  
Diaphragm, for short, only isolates the flow, with no pressure difference between the two isolated parts.  
2. Permeable film  
The use of rubber film on gas or liquid has a certain permeability and selectivity of this feature, the role of some fluids.  The membrane itself moves very little or no.  
3.  Sports film  
These films act as seals between stationary and moving parts.  At the same time are generally transmitted power!  
This type of film is most widely used.  
Rubber laminated diaphragm
It is mainly used in valves, control valves, automatic mechanical follow-up devices, switches and counters of flow, pressure, differential, liquid level, constant temperature volume thermal compensation, etc.  Its advantages lie in high reliability, good complexity, long working life and low cost.  
The rubber diaphragm produced by the company is more than 2 million times of bending, thickness in 0.5-5 mm, and can be processed according to the special requirements of customers, meet the temperature of -40℃--300℃, special media, pressure, non-toxic and other requirements.  
1. Develop all kinds of large, small, thick, thin clip cloth diaphragm.  
2. Clamping cloth compressive intensity, according to customer demand, the use of suitable glue, cloth bonding molding.  
3. Rubber materials include NBR, EPDM, CR, NR, SILICONE, FKM, etc.  
4. Fiber cloth has a variety of warp and weft yarn of nylon, dacron, cotton canvas, telescopic cloth, long service life, can accurately and other control components synchronous operation, to ensure the pulse compressed air blowing.  
Fiber-rubber diaphragm are available in the following elastomers:
·NBR(Nitrile-Butadiene Rubber)·HNBR(Hydrogenated Acrylonitrile-butadiene Rubber)
·XNBR(Carboxylated nitrile rubber)
·EPDM/EPR(Ethylene-propylene)
·VMQ(Silicone rubber)
·CR(Neoprene Rubber)
·FKM/FPM(Fluorocarbon)
·AFLAS(Tetrapropyl Fluoro Elastomer)
·FVMQ(Fluorosilicone)
·FFKM(Aflas® or Kalrez®)
·PTFE(Poly tetra fluoroethylene)
·PU(Polyurethane)
·NR(Natural Rubber)
·SBR(Styrene-butadiene Rubber)
·IIR(Butyl Rubber)
·ACM(Acrylate Rubber)
If you need a special compound for the  Fiber-rubber diaphragm , we can develop one for you!
All kinds of Diaphragm&Fiber-Rubber Diaphragm produced by our factory are suitable for automatic instrum ent high-tech electronic products, automobile manufacturing...
 At present, Yokey have more than 5000 specifications of o-ring mold ,can almost meet your any needs.
* If you need to customize the o-ring,we have independent CNC machining center.And charge less than the market price mold fee.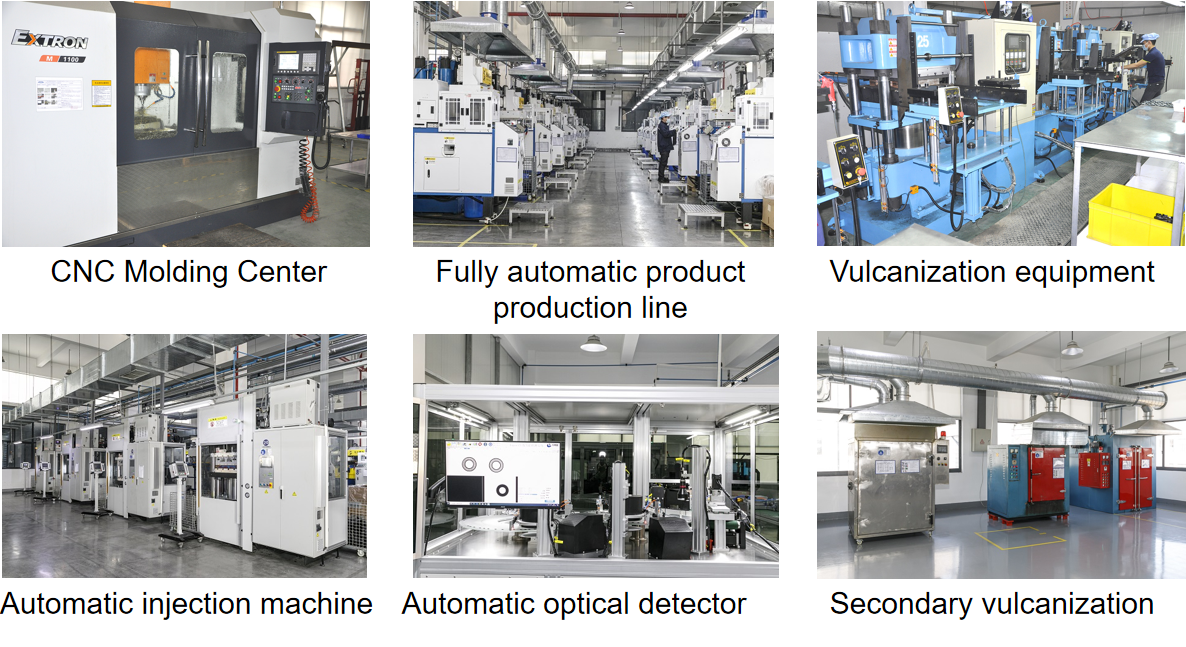 ---
---
Write your message here and send it to us