Color Waterproof NBR EPDM SILICONE FKM SBR Rubber O-Ring
Product Detail
Product Tags
| | | | |
| --- | --- | --- | --- |
| Size:  | customized, Non-Standard/Standard  | Place of Origin:  | Zhejiang, China  |
| Brand Name:  | Yokey/OEM  | Model Number:  | Standard/Non-standard  |
| Color: | Custom | Application:  | All Industry  |
| Certificate:  | IATF16949/RoHS/REACH/PAHS/KTW/NSF  | Material Type:  | NBR FKM EPDM CR SIL PTFE etc.  |
| Feature:  | Sealing Performance/Wear Resistance/High&Low Temperature  | MOQ:  | 20000pcs  |
| Hardness:  | According to the material  | Packing:  | Plastic Bag/Custom  |
| Working temperature:  | Choose Suitable Material  |   |   |
Product Info

Product name

O-RING

Material Type

NBR,EPDM,SIL,FKM,SBR,NR,etc.

Hardness Range

 20-90 Shore A

Color

Customized

Size

AS568, PG & Non-Standard O-Rings

Application

Industries

Certificates

FDA,RoHS,REACH,PAHs

OEM / ODM

Available

Packing Details

 PE plastic bags then to the carton / as per your request

Lead Time

1).1days if goods in stock 

2).10days if we have existing mould
3).15days if need open new mould
4).10days if annual requirement informed

Port of Loading

Ningbo

Shipping Method

SEA,AIR,DHL,UPS,FEDEX,TNT, etc.

Payment Terms

T/T,L/C,Paypal, Western Union
·NBR(Nitrile-Butadiene Rubber)·HNBR(Hydrogenated Acrylonitrile-butadiene Rubber)
·XNBR(Carboxylated nitrile rubber)
·EPDM/EPR(Ethylene-propylene)
·VMQ(Silicone rubber)
·CR(Neoprene Rubber)
·FKM/FPM(Fluorocarbon)
·AFLAS(Tetrapropyl Fluoro Elastomer)
·FVMQ(Fluorosilicone)
·FFKM(Aflas® or Kalrez®)
·PTFE(Poly tetra fluoroethylene)
·PU(Polyurethane)
·NR(Natural Rubber)
·SBR(Styrene-butadiene Rubber)
·IIR(Butyl Rubber)
·ACM(Acrylate Rubber)
When some parts of the 0-ring are missing, and the seal dimension are known while the parts are not available, 0-ring kits dimension areal because they give a choice of compounds and O-ring sizes for different applications.
The 0-ring kits are made of a high-quality assortment and durable nitrile rubber 0-ings. The rings are well organized in the box for secure storage.
The 0-ring kits are industry standard, and they have an outside cover tops, which contain details of quantities, and sizes of all 0-ring seals in each compartment.
0-ring kits are supplied in nitrile rubber because most divers use of the equipment while in saltwater, the ozone helps them in attacking the NBR. Therefore, Viton and NBR oring box have used hand in hand in breaking the nitrile hardness.
Viton oring box are essential in repairing faucets because of the NBR, and the ring kits ft different valves makes especially the popular models.
The 0-ring is effective in reducing maintenance costs as well as the assembly staff by eliminating the guesswork in selection this saving time.
0-ring offers convenience and is easy to use, thus making them ideal for application and maintainable.
The sealing ring (ptfe coated ring) combines the elasticity and sealing properties of rubber with the chemical resistance of Teflon. It is made of a silicone or Viton rubber (fluororubber) inner core and relatively thin Teflon FeP (polyperfluorinated ethylene propylene) or Teflon  Pfa (soluble polytetrafluoron) coated in combination, this rubber TEflon ring provides excellent sealing performance.  
Rubber O-ring easy to wear, chemical corrosion resistance and gas permeability resistance is poor, pure O-ring hardness is higher to resist compression but poor elasticity.  Teflon FeP/TeFLon PFA O-rings have good solubility and chemical stability (unless attacked by alkali metals, fluorine and some halides at high temperatures) and have good elasticity near rubber O-rings, FeP/TeFLon  The pFA has a very low coefficient of friction (only 0.1 to 0.2) and excellent resistance to gas permeability, which makes the coated ring seals suitable for harsh applications.  Therefore, ptfe coated O-ring, instead of expensive PERfluorinated rubber O-ring.  
The joint free and uniform surface of teFLon FEP/TEFLon PFA coating and rubber inner core make the whole sealing ring to maintain the same sealing, the elastic and compression of each point on the sealing ring uniform, can be repeatedly installed under the action of continuous pressure.  With the increase of medium pressure, the sealing ring is compressed as a whole.  The sealing ring is like a high viscosity liquid, and the pressure acting on it is transmitted in all directions without reduction.  
Teflon FEP and Teflon PFA are essentially similar, but teflon PFA has better high temperature resistance than Teflon FEP   
Solid coating ring sealing ring is *, a large number of applications and static seal and dynamic seal.  Hollow silicone rubber coated ring sealing ring wire diameter is generally larger, used in static seal, its hardness and compression resistance is lower than the solid core coated ring sealing ring.  
The existence of feP outer coating makes the sealing ring have good hardening resistance and brittleness resistance, and the inner core made of silicone rubber or Viton rubber makes the sealing ring still maintain good elasticity under the high temperature of 205℃.  The sealing performance comparison of kalrez rubber (perfluoroether rubber), Viton rubber and feP coated ring in the compression device is shown in the figure: Test results show that the physical properties of silicone rubber or Viton rubber and Teflon FeP/TeFLon  The chemical properties of PFA are combined to form the covering ring seal ring, which has good compressibility while maintaining rubber properties.  The coated ring seals are manufactured with strict quality control through the use of a special process in which the Teflon FeP polymer is completely coated in the rubber inner core and the O-ring is made to the required standard tolerances.  The data used show that we have a good quality commitment to our cladding products, which is based on performance testing and strict controls to ensure customer satisfaction and safe use of the product.  Compared with any other rubber or pure TEflon o-ring, the sealing ring has unmatched sealing and long life, especially in harsh media.  
Chemical Corrosion Resistance
Teflon FEP/Teflon PFA is a basic part of the cladding ring. It has excellent resistance to chemical erosion. At normal service temperature,  Teflon FeP/Teflon PFA is attacked by only a few chemicals, and only incompatible chemicals are listed here. For example, some metal strong bases, fluorine and some halides are incompatible with Teflon FeP/Teflon PFA.  
When exposed to Teflon FeP (recommended limit temperature: 204℃/ 400F)/ Teflon PFA (recommended limit temperature: 260℃/ 500F), some chemicals in high concentrations will react with it. At high temperatures,  Teflon FeP/Teflon PFA is corroded by organic compounds containing 80% NaOH and KOH, metal hydrides such as boric acid (B2 H6), aluminum chloride, ammonia (NH3) and some amino acids (NH2) and imino (R = NH).  In the 80f range, chronic oxidation reactions of 70% nitric acid can also be 80f.  
If used in these conditions, the product is subject to special testing.  In addition to the chemicals mentioned, the coating ring is usually chemically inert to other chemicals.  
1, outstanding chemical resistance, almost suitable for all chemical media  
2. Excellent corrosion resistance  
3, wide range of temperature application  
4, good compressibility  
5, anti-friction  
6. Good resistance to dissolution and swelling  
7, high pressure resistance  
8, excellent sealing durability, long service life  
1, pump and valve 2, reaction vessel 3, mechanical seal 4, filter 5, pressure vessel 6, heat exchanger 7, boiler 8, pipeline flange 9, gas compressor  
1. Chemical Process 2. Aircraft Manufacturing 3. Pharmaceutical Industry 4. Transportation of Petroleum and Chemicals 5. Oil Refining 6. Film Industry 7. Refrigeration Engineering 8  
Installation instructions of sealing ring of covering ring
1, installation or through the sealing ring of the covering ring part requirements smooth, no burr, groove and sharp Angle, the profile of the inner hole should reach 20 milliinches, shaft profile should reach 10 milliinches.  
2. Use clean light oil or grease to lubricate the surface of the sealing ring and its contact with the relevant parts.  
3. If the sealing ring of the covering ring is difficult to install on the shaft, it can be immersed in hot water for a few minutes to make it expand. The softened and expanded O-ring is easier to install.  Install the O-ring while it is hot and return to its original size when it cools down.  
4. Do not bend the o-ring of the cladding ring too violently, otherwise it will cause the wrinkling of teflon and affect the use.  
The required compression of the sealing ring is as follows
Static seal :15%-20%  
Dynamic seal :10%-12%  
Pneumatic condition :7%-8%  
O-shaped section coated ring sealing ring is a standard product, of course, can also make square and rectangular section coated ring sealing ring, this sealing ring is applied to a larger sealing surface and can withstand a larger positive pressure, and its installation size can be done with o-shaped section coated ring sealing ring the same, but it requires a lower compression.  
O-section coated ring seals are very common, square or rectangular section coated ring seals are usually used in some specific situations, please contact our company or distributors before ordering and consulting.  
The rectangular section of the coated ring sealing ring is designed in accordance with the nominal aperture of the end cover sealing surface, this sealing gasket is called the coated rectangular sealing ring, the outer coated with teFLon FEP/PFA different specifications and diameters of the coated rectangular sealing ring size series and the coated ring is also complete.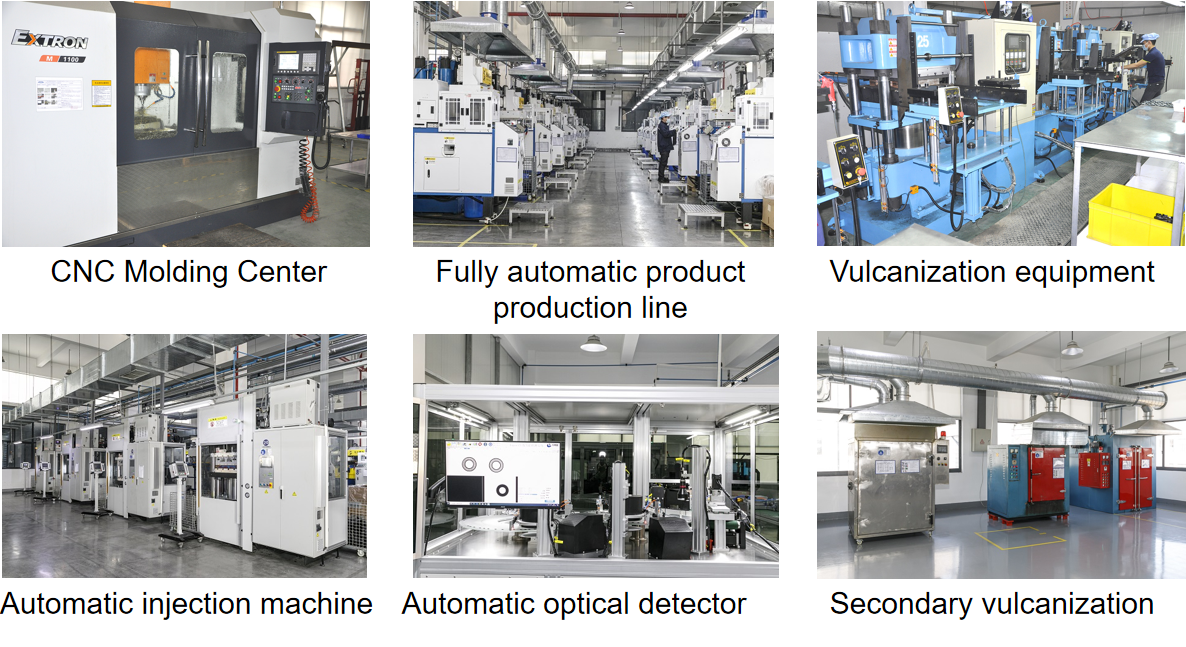 ---
---
Write your message here and send it to us