Customized material NBR/EPDM/FKM/SIL Rubber O-Ring
Product Detail
Product Tags
An O-ring is a gasket with an O-section to prevent leakage of fluids and dust.  We provide a wide range of rubber materials, suitable for all conditions of use.  
An O-ring is an O-shaped (circular) gasket with a cross section that is fixed in the groove and properly compressed to prevent leakage of various fluids such as oil, water, air and gas.  
Using synthetic rubber materials suitable for a variety of applications, we provide O-rings that can withstand long periods of service in harsh conditions.  
4 kinds of common O-ring materials
NBR
Nitrile Rubber is prepared by copolymerization of acrylonitrile and butadiene. The content of acrylonitrile ranges from 18% to 50%. The higher the content of acrylonitrile, the better the resistance to hydrocarbon fuel oil, but the low temperature performance is worse, the general use temperature range is -40~120 ℃.  Butanol is one of the most commonly used rubber for oil seals and O-rings.  
Advantages:  
· Good resistance to oil, water, solvent and high pressure oil.  
· Good compression deflection, wear resistance and elongation.  
Disadvantages:  
· Not suitable for polar solvents such as ketones, ozone, nitro hydrocarbons, MEK and chloroform.  · Used for making fuel tank, lubricating oil tank and rubber parts, especially sealing parts, used in petroleum hydraulic oil, gasoline, water, silicon grease, silicon oil, diester lubricating oil, ethylene glycol hydraulic oil and other fluid media.  It is the most widely used and lowest cost rubber seal.  
FKM
Fluoro Carbon Rubber Any of various types depending on fluorine content (monomer structure) of fluorine molecules.  High temperature resistance is better than silicone rubber, has excellent chemical resistance, resistance to most of the oil and solvent (except ketone, ester), weather resistance and ozone resistance;  Cold resistance is poor, the general use of temperature range of -20~250 ℃.  Special formula can withstand low temperature up to -40 ℃.  Advantages:  
· Heat resistance to 250 ℃  
· Resistant to most oils and solvents, especially all acids, aliphatic, aromatic and animal and vegetable oils  
Disadvantages:  
· Not recommended for ketones, esters of low molecular weight and mixtures containing nitrate.  · Automobiles, locomotives, diesel engines and fuel systems.  
SIL
Silicone Rubber main chain is made of silicon (-si-O-Si) bonded together.  Excellent heat resistance, cold resistance, ozone resistance, atmospheric aging resistance.  Good electrical insulation performance.  The tensile strength of ordinary rubber is poor and does not have oil resistance.  Advantages:  
· Tensile strength up to 1500PSI and tear resistance up to 88LBS after formulation  
· Good elasticity and good compression distortion  
· Good resistance to neutral solvents  
· Excellent heat resistance  
· Excellent cold resistance  
· Excellent resistance to ozone and oxide erosion  
Excellent electrical insulation performance  
· Excellent heat insulation and heat dissipation  
Disadvantages:  
· Not recommended for use in most concentrated solvents, oils, concentrated acids and diluted sodium hydroxide.  · Seals or rubber parts used in the household appliance industry, such as electric POTS, irons, rubber parts in microwave ovens.  
· Seals or rubber parts in the electronic industry, such as mobile phone keys, shock absorbers in DVD, seals in cable joints, etc.  
· Seals on all kinds of articles in contact with human body, such as water bottles, drinking fountains, etc.  
Epdm  
Ethylene Rubber (PPO) is copolymerized from Ethylene and propylene into main chain and has excellent heat resistance, aging resistance, ozone resistance and stability, but cannot be added sulfur.  To solve this problem, a small amount of the third component with double chain is introduced into the main chain of EP, which can be formed by adding sulfur to EPDM. The general temperature range is -50~150 ℃.  Excellent resistance to polar solvents such as alcohol, ketone, glycol and phosphate lipid hydraulic fluids.  
Advantages:  
· Good weather resistance and ozone resistance  
· Excellent water resistance and chemical resistance  
· Alcohols and ketones can be used  
· High temperature steam resistance, good impermeability to gas  
Disadvantages:  
· Not recommended for food use or exposure to aromatic hydrogen.  · Seals for high temperature water vapor environment.  
· Seals or parts for bathroom equipment.  
· Rubber parts in the braking (braking) system.  
· Seals in radiators (car water tanks).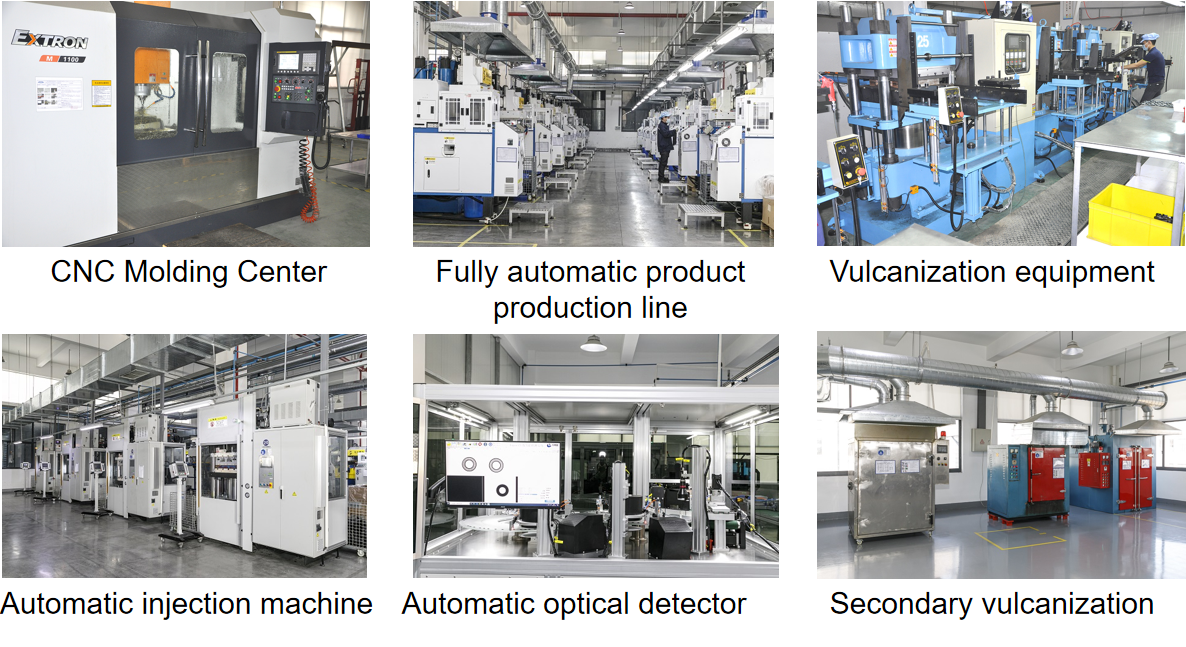 ---
Previous:
High quality Sealing Rubber X-Ring
---
Write your message here and send it to us